I've been getting frustrated with Windows lately – like everyone has at some point or another.. So I decided I would attempt to run Linux on my laptop instead. (I'm dual-booting for now).
I've dabbled with Ubuntu every year or so, but I still a linux beginner.  I don't like the Unity interface of Ubuntu, but I found out that I can continue to use gnome, or more specifically gnome-shell.
The install actually gave me a bit of trouble.  Ubuntu 11.10 would not install grub, and when it finally did, only windows was listed in the boot menu – not Linux. So, after a while of fighting, I gave up and installed Ubuntu 11.04.  Grub installed properly, and I then upgraded to 11.10 inside of 11.04 with no problems.
The first thing I did was switch from Unity to Gnome-Shell for my desktop.  Gnome-shell is like a compromise between Unity and Gnome.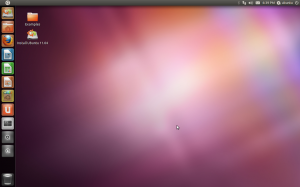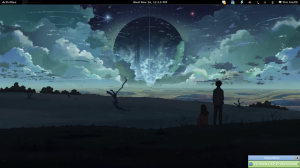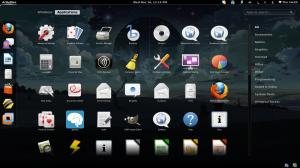 I really enjoy Gnome-Shell – it's very easy to navigate, and it's clean and simple. The icons on the left are launchers, and open tasks. If 'Windows' is selected instead of 'Applications' it will display all windows, whether minimized or not.
Having installed Windows 8 in a VM, this interface is more intuitive in my opinion than 'Metro'.
A large part of my job is working with VMware products.  Unfortunately, VMware does not make a vSphere client for Linux.  There is a VMware View client called 'VMware View Open Client' that I found in Ubuntu's Software Center.  After a one click install, I can connect to my View desktop in the office without any issue.
VMware offers Workstation 8 for Linux too! This is very handy, as I can simply create a Windows VM to run anything Windows related that I need – including a vSphere client.  Using Workstation's Unity – I can run the vSphere client – or any other windows program – seamless in my Ubuntu desktop.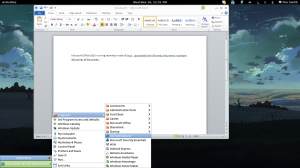 So, while I can't do everything I need in Linux, I can compromise for now.
Citrix has a Citrix Receiver client for linux, and that works very well – once it is configured.  It installed without issue, but when I went to launch an application from a client's citrix portal, I received an SSL warning – however, they were using a trusted cert.  After some digging, I found out that you have to put the certificates into the ICA directory.  Using a simple command, I copied all the root certs from Firefox into the proper ICA directory:
cp /usr/share/ca-certificates/mozilla/* /usr/lib/ICAClient/keystore/cacerts/
After that, I had no issues launching application from the Citrix portal.
Permanent Replacement?
No. I know a lot of people would disagree, and say that this will be "the year of the Linux desktop",  but frankly, that year hasn't come.  Windows has become much more stable, and can be run on the desktop by almost any user.  On the other hand, I had to do a lot of searching and changing configurations to get things to work the way they needed to for what I do. Average Joe isn't going to make it.
Now, if Average Joe needs a desktop with office applications, and internet access, and common apps like that – then yes – Ubuntu could work out very well.  In fact, you could have your entire SMB running off linux desktops and a Linux SBS server. (See Zentyal Linux Small Business Server and Ubuntu Desktop with Zentyal Integration)
Each year, Ubuntu is getting better and better, and more big name applications are now able to run in Linux.  I think I can make the switch permanently once a vSphere client is available.