I acquired an Asus Transformer tablet, and wanted to share my thoughts on it.  Here are the specs:
Nvidia Tegra 2 1Ghz dual core CPU, 1 GB RAM
16GB or 32BG storage
Android 3.0 Honeycomb
Wifi 802.11b/g/n, bluetooth, and GPS
10.1″ IPS display with 178⁰ viewing angle
Micro SD slot
Mini HDMI port
Headphone jack
12.98mm thick, and 680g
Rear 5MP camera, and front 1.2MP camera
There are a couple other android tablets out there, with the Motorola Xoom being the most well known, but what drew me to this tablet was it's transforming ability.  The tablet has a keyboard dock with touchpad – that has 2 USB ports, an SD slot, and more batteries.  When docked, the tablet is now a netbook running android with up to 16 hours of battery life!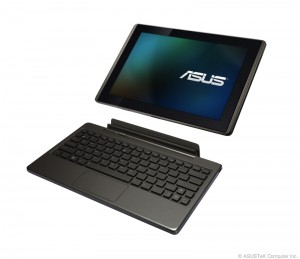 The tablet comes with almost no bloatware, and it is very responsive.  The screen looks fantastic, and can display 720p.  Using the HDMI output, you can watch up to 1080p via your television. 1080p video output is slightly jumpy, but it is barely noticeable – 720p is perfect. A must have is the Nvidia TegraZone app which contains games optimized for the Tegra chipset.
Here is a screenshot of my favorite tablet game, Galaxy on Fire 2.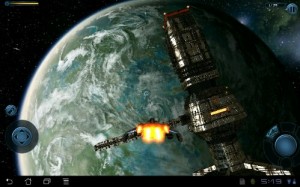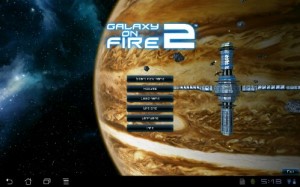 All the games I have tried work great, including Angry Birds, the must have for any device.
The screen is made of Gorilla Glass, and is very tough. However, finger prints are very noticeable, and can become annoying.  I have been using this tablet for about a month now, and love it!  It has handled every app I have installed on it without any problems so far, and most apps I was used to running on my Droid X look much better on the larger screen.  One nice thing about having a phone and tablet running Android is any app I purchased can bee freely installed on either device.  Touchdown, and exchange client, even has a Tablet edition that I was entitled too since I bought the regular app. If you are running Exchange 2003 – 2010 at the office, Touchdown will work far better than the default android app to access your mail, and it uses activesync or OWA – I HIGHLY recommend spending $20 on this app!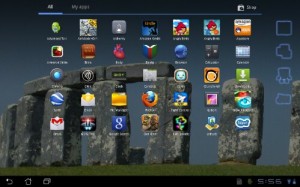 (No, that isn't Stonehenge in the background, it's Foamhedge in Virginia)
The default browser is wonderful on this tablet, allowing tabs and Flash support (come on Apple!)  I installed both Firefox (beta) and Opera on the tablet, but found myself always using the built-in browser instead. It's quicker, and the tabs are all laid out at the top like a desktop browser.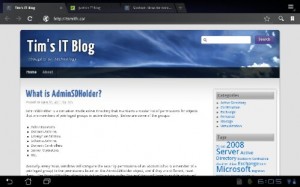 If you are looking at Android based tablet, this is the one to get.  Not only is it cheaper, and have the same specs as the Xoom, the keyboard docking station makes your tablet so much more!  The docking station is still on back-order, but when I receive one, I will have another post on it, and some longer term thoughts about this tablet.