Recently, I was moving my lab away from the VSAN beta code, and onto the ESXi 5.5 update 1 bits.  I started fresh with my hosts, and simply upgraded my vCenter server.  However, I ran into an issue once I had enabled VSAN.  I had no storage profiles.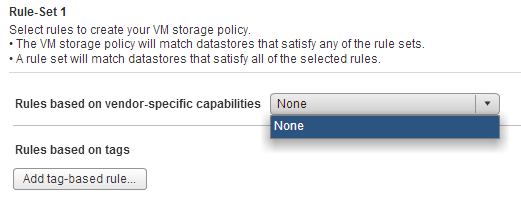 If I clicked on refresh, it came back with the error :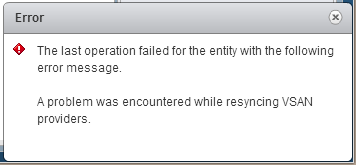 "there was a problem encountered while resyncing the VSAN providers"
Apparently, this is not an issue for new vCenter installs, and only seems to be affecting those who updated vCenter to update 1 from 5.5.
From the vCenter 5.5 Update 1 release notes:
"In Virtual SAN enabled clusters, the VM Storage Policies do not display Virtal SAN capabilities. When you navigate to vCenter Server home page > <vCenter Server name> > Manage > Storage Providers, the UI does not show any Virtual SAN Storage Providers. You might encounter this issue if you are attempting to upgrade Virtual SAN from earlier versions of vSphere 5.5 to vSphere 5.5 Update 1 or if the Virtual SAN Storage Providers are not registered with vCenter Server."
There are 3 solutions offered – unfortunately, none of them worked for me.
Restart the VMware vSphere Profile-Driven Storage Service.
Move the host outside the cluster and add it back.
If none of the storage providers are listed, when you navigate to the Storage Providers drop-down menu, move all the hosts to a new Virtual SAN enabled cluster.
Ultimately, I had to manually create the storage provider:
Navigate to Storage Providers in the Manage tab of the vCenter object.
Click the icon to register a new provider.
Add in the following info for each participating host

Name
http://(host-ip-here):8080/version.xml
Root and password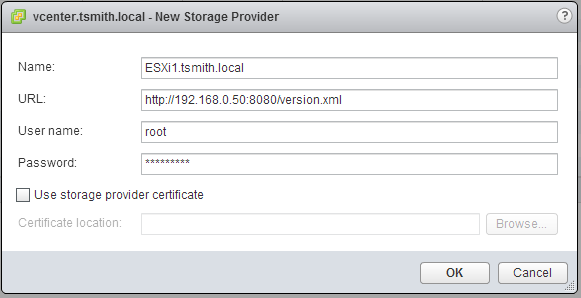 At this point, I was able to return and create a new storage profile for VSAN.