Installation of VMware's Virtual SAN (VSAN) couldn't be easier. No, really!
To start with, in my lab environment, I have 4 servers that will participate in the VSAN cluster, and 3 of which will provide storage resources to the VSAN cluster.
3x DL160 G6 with:

128GB SSD
3x 250GB SATA drives (or larger)

1x DL360 G6
At this point, I have already added all 4 servers into a cluster with HA off.
Step 1: Enable the VSAN service on a VMKernel port.
Create your virtual switches, and create at least 1 VMKernel port that will be
used for VSAN traffic.
Be sure to keep the Switch names the same across hosts!
Edit the VMKernel port and check the box for Virtual SAN Traffic.
Save the port settings, repeat for each host.
Time Saver: Use host profiles!
In my lab, I am using standard switches, with 2 virtual switches, each with a VMKernel port. 1 is dedicated for VSAN traffic, and the other is shared with the Management and Virtual Machine Traffic.

Step 2: Enable VSAN on the Cluster
 Select your cluster, and choose the Manage tab, and the select General under Virtual SAN.
Edit, and check the box to Turn ON Virtual SAN.
Choose your setting for "Add disks to storage"

Manual – You will select each disk that will be a part of the Virtual SAN
Automatic – VSAN will select all eligible disks for you and add them

Click OK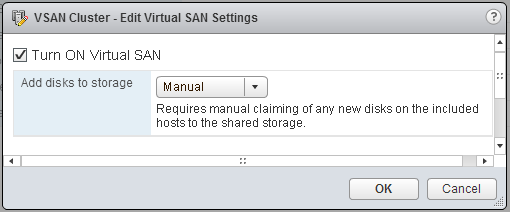 Step 3: Add Disks to Disk Groups
Since I chose Manual mode, I will need to add my disks into Disk Groups.  A Disk Group is a collection of 1 SSD, and multiple HDD drives.  You can have multiple disk groups per host if capacity allows.
Still in Virtual SAN settings under the cluster, select the Disk Management section.
Click on the Claim Disks button, and select the drives for use in Virtual SAN.

Alternatively, select each host, and manually create Disk Groups per host.
Claim Disks: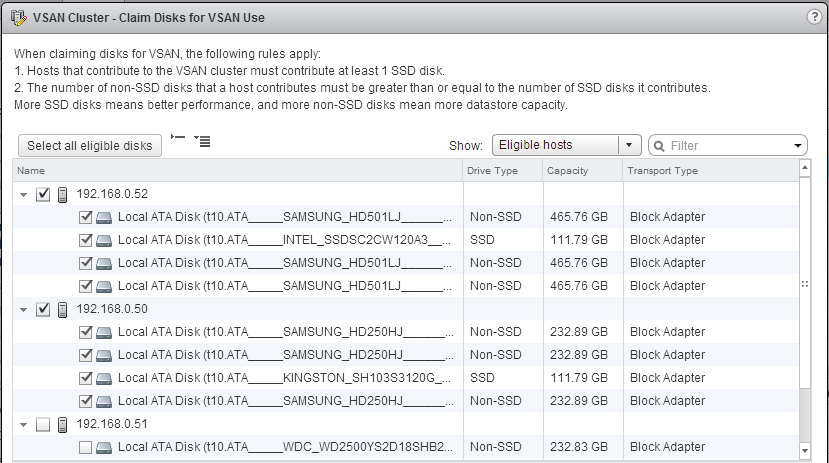 Create Disk Group: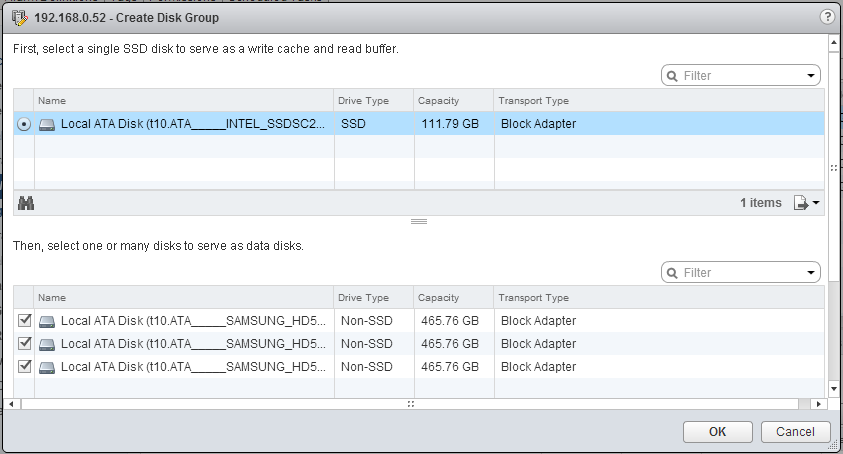 Step 4: Start building Virtual Machines!
Yes, it is that easy. You now have a datastore called vsanDatastore.
My DL360 G6 server can also access this datastore, since I enabled VSAN on the VMKernel port groups, even though it's not providing any resources to the VSAN cluster.