Just after VMworld this year, VMTurbo signed up as a sponsor for this blog.  If you aren't familiar with VMTurbo, I highly recommend you try out some of their free tools to start!
I will be adding some posts on the Virtual Heath Monitor in the near future, stay tuned!
From VMTurbo's site:
Virtual Health Monitor by VMTurbo is a free virtualization monitoring and reporting tool for virtual environments. It provides single pane of glass visibility into VM and infrastructure health.
Monitor Storage, Compute, & Network performance in single pane of glass
Flexible dashboards & reports: datacenters, clusters, hosts, data stores, VMs
Efficiency recommendations to maximize resources
Unlimited scale – no limitations on number of hosts or VMs
Easy deployment – be up and running in less than an hour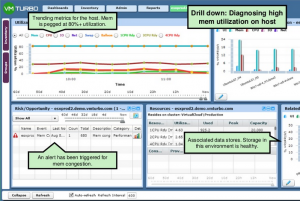 Create diagrams of your datacenter using VMTurbo's free datacenter stencils pack for Microsoft Visio or for OmniGraffle. See your entire stack from a bird's eye view to help better understand workflow.
Stencils include:
Host
Cluster
Virtual & Physical SAN
Thin & Thick Provisioned Datastores
Public, Private, Hybrid, & Virtual Datacenter Clouds
And More!