VMworld 2013 is here!
Saturday started off with most people arriving and registering. The backpacks this year are quite nice, and different from years past in shape.
At 2pm, the #v0dgeball tournament began. While the vExperts team was who I was rooting for, the EMC team took the win in the double elimination tournament. All proceeds from the event go to a charity. This year, over $14,000 was raised for Wounded Warriors. How awesome is that? If you weren't aware of v0dgeball I highly recommend attending next year.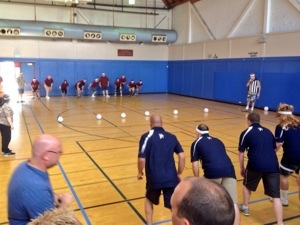 At 4pm, the Welcome reception officially kicked off VMworld. All the vendors had their booths completed and ready for the masses. With good food and drinks a-plenty, this 3 hoUrs allowed us our first look at new innovations for the coming year.
While the big VMware secrets are released until the General session (Monday), the other Vendors are more than willing to show what's new!
I recommend visiting as many booths as you can while here! Make sure to check out Veeam, Zerto, Pluralsight (Trainsignal), EMC, and of course, VMware.
The day wrapped up with the VMunderground Party. This years location offered TONS of room compared to previous year. Although, it's not much "underground" anymore! The line looked like a concert event!
The VMunderground party is a great place to meet up with a lot of people in the community.
More updates to follow for each day!