Microsoft released their iSCSI target software earlier this month for Windows Server 2008 R2.  This used to be only for windows 2008 Storage Server.  This is good news for those who wish to have a Windows 2008 Server host storage for ESX, or Hyper V.  You won't get the bells and whistle's like you would with a EqualLogic or EMC SAN, and you won't get the performance either; what you will get, is cheap, easy storage with a feature or two.
Luckily (for the blog), my Openfiler SAN died yesterday, so I decided to install Server 2008 R2, and use the iSCSI Target 3.3 to host my LUNs for my vSphere testing environment at home.  Here are the specs of the machine I am using:
Intel 975XBX2 with Core2 Duo Proc
4GB RAM
6x 1TB SATA Drives
2x 120GB OS Drives
Not a machine anyone would use for production, but for a test environment, it is fast enough for me.  Here are the steps it takes to make a Microsoft iSCSI SAN:
At this point, it will extract files to the location you chose, and open a browser with the following: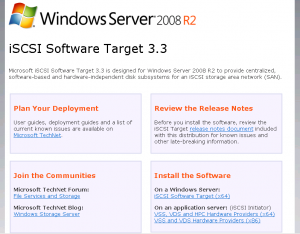 Choose iSCSI Target Software (x64), and 'Next' your way through the installer.
Now, when you open up Server Manager, you will see "Microsoft iSCSI Software Target" under Storage.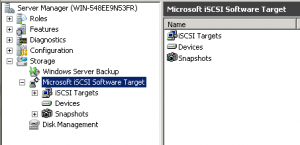 iSCSI Targets are definitions of iSCSI initiators that are allowed to connect to this server. Devices are the Virtual Disks you assign to the Targets.  Microsoft iSCSI Target Software uses .vhd files as the virtual disk files that are exported.  In my test scenario, I have 2 ESX servers, and will only be using 1 LUN.
Choose "Create iSCSI Target" in "iSCSI Targets", and enter a unique name ( I chose ESX1). At the next screen, it prompts for the iqn of the ESX Server.  The advanced button also lets you choose other methods of identifying the ESX server.  I chose advanced, and entered the IP of my ESX Servers iSCSI initiator. Click Finish.  Repeat this for each initiator that will be connecting to your iSCSI storage.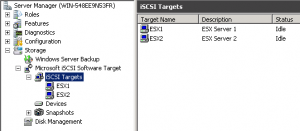 Next, we need to create a disk. Under "Devices", right click and choose "Create Virtual Disk".  Choose the location to store the .vhd file, choose how large you want you new LUN to be, and a description.  The last windows will allow you to choose what "targets" will have access to this new LUN.

At this point, that is all that is needed to make storage available via iSCSI.  There are some additional things that Microsoft offers with the iSCSI Target Software:
Snapshots for the Virtual Disks (and Scheduled Snapshots)
Ability to mount the Virtual Disk on the Server (be careful to make sure it's not in use!)
Ability to mount Snapshots on the Server
Ability to increase the Virtual Disk size
Overall, I think it's a great product, and it's free!  I'm glad that Microsoft has included snapshots, and the ability to rollback to a snapshot, or mount a snapshot in the software.