With the release of Veeam Backup and Replication v12 on 2/14/23, there's going to be a lot of upgrades happening! For the installs that use Veeam's CDP (Continuous Data Protection) for sub minute, snapshot-less replication, that's means updating the IO filter driver on the VMware hosts.
In my lab, I'm running the latest build of Veeam Backup and Replication v11, and my hosts have the veecdp filter driver version 11.1.312. That information can be found by selecting the vSphere cluster, and navigating to Configure, and selecting I/O Filters.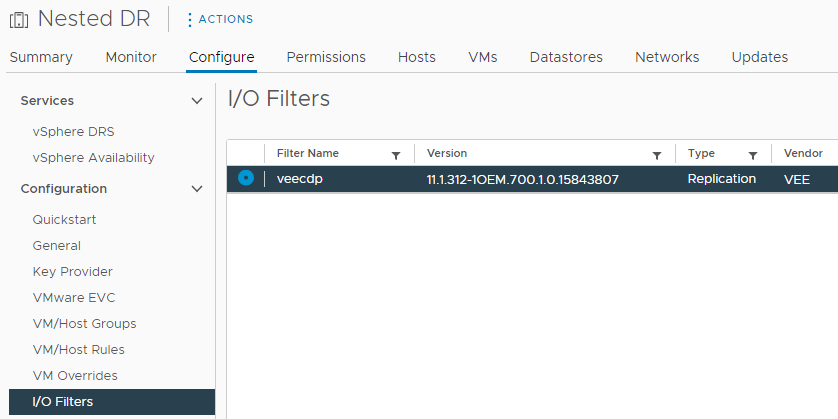 Just like any other Veeam upgrade, all jobs will need to be stopped (or policies disabled in the case of CDP) and the backup console closed. If you leave your CDP policies running the installer will let you know. Mount the ISO and start the installer, and continue through the steps to upgrade from v11 to v12. I chose to NOT update remote components automatically in order to show the more manual approach.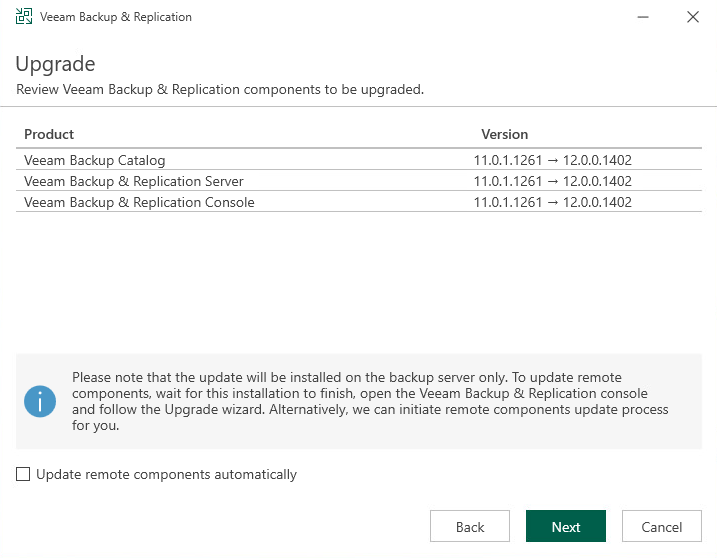 After a while, the update is complete, and the server will require a reboot. When you log back into the Veeam console for the first time after the update, there's a list of remote components that have not yet been updates (as I had unchecked to button to update them automatically). Here, all the remote servers will now be updated, but I again un-selected the vSphere clusters so we can update the I/O Filters independent of the rest of the infrastructure.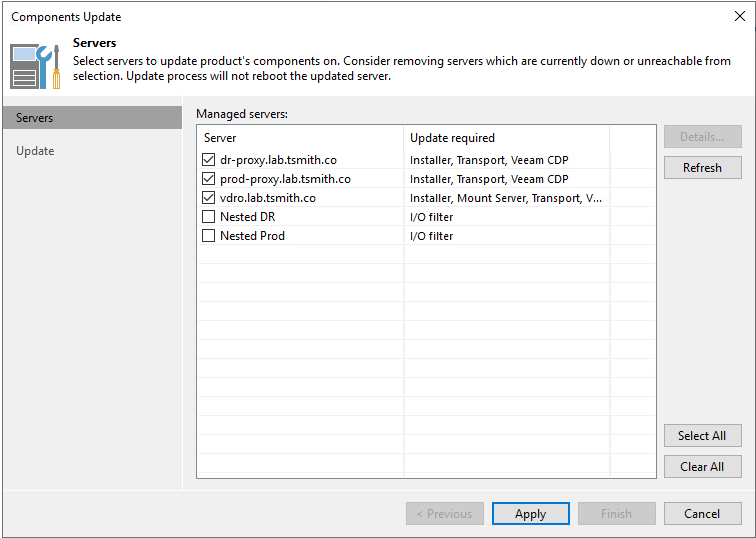 Since the clusters have not yet been updated, any CDP policies that get re-enabled will not be able to yet process VMs and their disks. I re-enabled my policy to show the error message that the console will display.

Again, the vSphere clusters could have been updated by now, but I chose not to on the previous screens – but now is the time to proceed with the update. In the navigation tree under Inventory, right click on the vCenter server and choose Manage IO Filters. The two clusters show out of date and they will now get updated by clicking next. During the upgrade, Veeam will be using vSphere APIs to handle uninstalling and installing VIBs. The nice thing about this method is that vSphere is responsible for the availability of VMs and hosts. The process is identical to doing VMware updates with Lifecycle Management (Update manager) in which VMs are vMotioned off of a host, the host is placed into maintenance mode, and the updates (or in our case Filter Driver) is changed. Hosts will NOT be rebooted during this upgrade.

Once all the hosts are completed with the upgrades, we can double check the driver version again inside of the vSphere Web Client and now see version 12.0.412 CDP policies can now be re-enabled, and the replication will continue on with it's processing of the VMs in the policy.