Recently, I was setting up a Veeam SureBackup job for a client and received an error when running the application group for the domain controllers, which will be the cornerstone of all the other SureBackup jobs.
The job would run properly, spinning up the VM in a sandbox environment.  SureBackup would verify vmtools were running, that the VM was pingable, and then would start the application tests.  Since this was a domain controller, the tests are set to:
DNS Server
Domain Controller
Global Catalog
However, all three tests failed with the same error:
Failed – Failed to create process with net logon (-1073741816)

So what's the problem?
Well, Microsoft released a patch that was related to a security vulnerability with the secondary logon service, which could allow improper elevation.
KB 3139914 – Description of the security update for the Windows Secondary Logon Service: March 8, 2016
What's the solution?
Uninstalling the update will correct the issue, since the update broke it in the first place.
Another option it turns out, is to leave the credentials blank for the Application Group.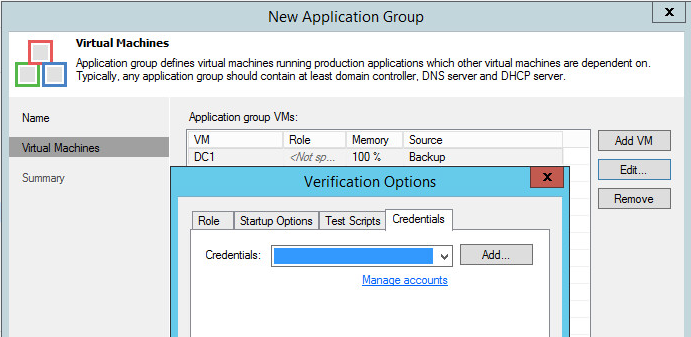 After performing either one of the above solutions, the SureBackup job will now complete without error.